Jesse Emery performs a dead lift during the 'FitCon Frontline Throwdown' at the Salt Palace in Salt Lake City, Utah, April 21. The four-person team took turns lifting 225 pounds as many times as possible in 10 minutes. (R. Nial Bradshaw/U.S. Air Force)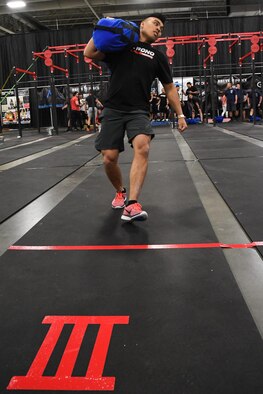 Elijah Carino performs a shuttle with 160 pounds on his shoulder during the 'FitCon Frontline Throwdown' at the Salt Palace in Salt Lake City, Utah, April 21. Each member of the four-person team ran back and forth six times, three times with the weight and three times without. (R. Nial Bradshaw/U.S. Air Force)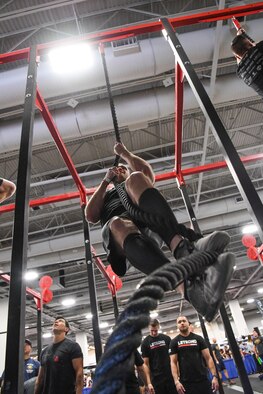 Brandon Charleson performs climbs a rope during the 'FitCon Frontline Throwdown' at the Salt Palace in Salt Lake City, Utah, April 21. The four-person team took turns climbing the rope for 10 minutes. (R. Nial Bradshaw/U.S. Air Force) 
SALT LAKE CITY, Utah — Eight Airmen represented the 388th Fighter Wing and 75th Air Base Wing in a fitness challenge against other first responder teams April 21 at the Salt Palace.
Two teams from Hill Air Force Base competed. One team included Brandon Charleson, Jesse Emery, Elijah Carino and Russell Poulson. Joe Lucich, Juan Mendez, Andrew Cherry and Travis Callahan formed the other team. Other competitors in the 'FitCon Frontline Throwdown' included a total of eight military, firefighter and law enforcement teams.
"This challenge gave us a boost in camaraderie and pride, especially with the public attention that FitCon generates," said Charleson. "We expected competition to be high since we competed against other military teams, fire fighters and police."
The fitness challenge consisted of deadlifts, rope climbs, shuttle runs and endurance challenges. One of the Hill AFB teams prepared for the Throwdown with CrossFit training at a local gym.
"In these types of competitions, workouts are usually either announced at short notice or not announced at all to promote general physical preparedness and ensure no one is specialized in one specific skill," said Charleson. "We feel training for CrossFit applies to all aspects of training for the unknown and being prepared for the unknowable. The same aspects as being in the military is—being ready mentally and physically 24/7."
The team of Lucich, Mendez, Cherry and Callahan finished third, while the team of Charleson, Emery, Carino and Poulson finished sixth.
"We anticipated a very healthy dose of competition and we got it," said Emery.
Dynamic Warm-Up – Mobility
Prepare to for..
Strength: Squat Snatch 5×3
"Perfect reps only" : Triples can be successfully done between 60 and 80%.
Cleaning up movement should not exceed 70%. If the movement feels good make your way into the 80's.
WOD: "Dumb Dumb Fran"
21-15-9
Dumbbells Thrusters 45's/30's, 35's/20's, 25's/10's
Pull-ups

* Scale weight and movement accordingly to maintain good mechanics through WOD. Work progression of movement as needed.  Ask your coach for help.
COOL DOWN: Carry something heavy for 400 m

ABOVE AND BEYOND
Conditioning
5 Rounds:
Row 1 min for Max Calories
Rest 3:00
Shoot for a PR every round. There is enough rest that there is no excuse not to try and break the rower each round.

Accessory
Romanian Deadlift
4×8 @ 60% climbing as needed.
Keep these very slow and controlled on the way down, and be aggressive on the way up.